First thing I am going to say about
Jet
is that their second cd,
Shine On
, is brilliant. Second thing is that they are fantastic to see live. The new songs blended in seamlessly with the older ones – this does not always happen with bands.
Lead singer and guitarist
Nic Cester
is a star who knows how to involve an audience. Cester walked around in the audience twice, and the band seems even musically closer since the last time I saw them when they opened for
Oasis
. Mark Wilson is a fantastic bassist, Cameron Muncey is what I would describe as a cool, calm and collected guitarist, and drummer Chris Cester is an original.
I have many favorite Jet songs.
Cold Hard Bitch
still sounds fresh and dirty. Their new song
Rip It Up
is luscious;
Take It Or Leave It
is just super, and
Look What You've Done
Look What You've Done
. . . is so touching.
To see more of my Jet photos, click
here
Jet's Nic Cester, Seattle 2006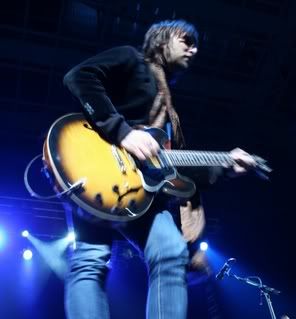 <<
<Back
| 1 | 2 | 3 | 4 | 5 | 6 | 7 | 8 | 9 |
Next>
>>